NOAH : The Gunslinger Witch[announcement]
What is NOAH : The Gunslinger Witch ?

NOAH : The Gunslinger Witch is a Twinstick-Shooter title from Japan.

You play the game as Noah who is a detective and a witch.

Noah seeks the root of Cross over with Strange World in Arian-Rod which was a witch academy.

FEATURES
Magical Bullets

Noah uses some magical power with mana.

Weapons you pick up have 3 types of magical power.

Red bullet is CRITICAL that sometimes shoot multi projectiles.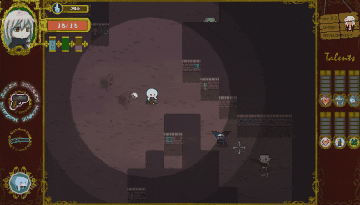 Blue bullet is PENETRATION that penetrates enemy.

Green bullet is BOUNCE that ricochets againist walls.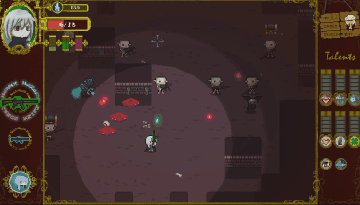 Skill System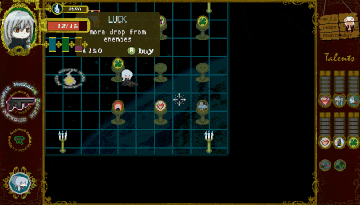 NOAH : The Gunslinger Witch has a kind of Rogue-Like games.

You can buy skills and weapons from Reaper who sells something in Reaper's Shop.

There are 2 types of skills, Normal Skill and Special Skill.
Release

Spring 2018 (steam / itch)
Developer

NOMANA INTERACTIVE inc. [web]

Machida [Twitter] : Planning, ART, Design

Tomita[Twitter] : Program

Contact

If you have any requests, feel free and contact us !

email : info[at]nomana.jp
twitter : Machida's Twitter
---
NOAH:The Gunslinger Witchとは
日本のインディーズゲームスタジオ「ノーマナ・インタラクティブ」が開発中のツインスティックシューターゲームです。
プレイヤーは魔女であるノアを操作し、かつて魔法学園だったアリアン=ロッドを目指しながら、かの地が異世界とつながってしまった原因を探求します。
ゲームの特徴
魔法の弾丸
ノアは、マナを消費することによって弾丸に魔法の力を付与することができます。
取得する武器は3タイプの弾薬のうちのいずれかを使用します。
赤の弾薬はクリティカルー一定確率で弾丸を同時発射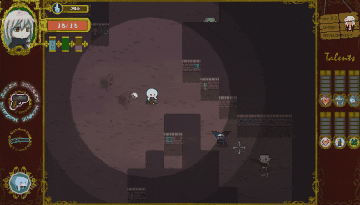 青の弾薬はペネトレーション―弾丸がエネミーを貫通
緑の弾薬はバウンス―壁を跳弾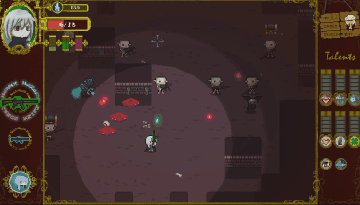 スキルシステム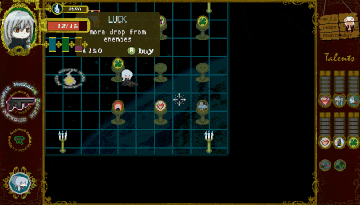 NOAH:The Gunslinger Witchはローグライクタイプのゲームです。
プレイヤーは死神が営む商店でスキルを購入できます。
スキルには基本的な能力を向上させるノーマルスキル、特別な能力が付与されるスペシャルスキルの2種類があります。
リリース時期
2018年春 (steam / itch)
開発者
NOMANA INTERACTIVE inc. [web]
Machida [Twitter]:Planning,ART,Design
Tomita[Twitter]:Program
お問い合わせ
お気軽に下記までお問い合わせください。

また、このページをプレスキットとしてご活用いただけます。
email : info[at]nomana.jp
twitter : Machida's Twitter